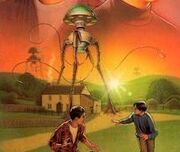 The Tripod Invasion was the takeover of Earth by the Masters using advanced mind-control technology and invading the planet with Tripods. The invasion is depicted in the novel When the Tripods Came.
The Masters discovered Earth on their stellar travels and decided to colonize it. They sent some Tripods on the planet to study the human race living on the planet. The Tripods were swiftly destroyed by the humans, displaying advanced warfare technology. The Masters decided to take a subtle approach to subjugate the human race.
Through a television show called The Trippy Show, the Masters gradually hypnotized people to become extremely obedient to the Tripods. They then sent more Tripods to Earth to provide the hypnotized people with Caps that would keep them permanently enslaved. Wars between free and capped people were fought, but as the number of the capped grew, the free men lost. The Masters were then free to establish three cities on the planet and rule all of humanity through Caps.
Appearances
Edit
TV Series
Edit
Community content is available under
CC-BY-SA
unless otherwise noted.