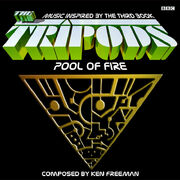 The Tripods: Pool of Fire Suite is a soundtrack composed by Ken Freeman, published at the same time as The Tripods DVD for the TV Series in 2009. The album consists of seven musical tracks that were inspired by the unmade third series.
1. "A Plan Of Action" (3:46)
2. "The Green Man" (6:40)
3. "A Drink With Ruzi" (7:32)
4. "The Pool of Fire" (6:31)
5. "Summers of Winds" (4:40)
6. "Freedom" (5:31)
7. "The Conference of Man" (5:33)
Total length: 40:12
Community content is available under
CC-BY-SA
unless otherwise noted.