Daniel Montagon was a Black Guard who was engaged to Jeannie Vichot and tracked Will, Henry and Beanpole on their journey after they left the Vichot Vineyard.
Biography
Edit
Daniel met Will, Henry and Beanpole at the Vichot Vineyard after the boys had taken shelter there. Daniel began suspecting them and demanded for official papers, which he ended up arranging for them. However, after the boys left to continue their journey, Daniel secretly followed them in order to discover their plans.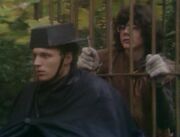 The boys were caught stealing food in a French village and were put on trial, but Daniel intercepted and demanded he take the boys for questioning to his superiors. The people of the village agreed and so Daniel whisked the boys away in a cage. On the way, the boys managed to steal the key to the cage. They tied Daniel up in the cage and left him behind.
Personality
Edit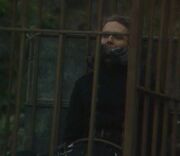 Due to the Cap he was wearing, Daniel was entirely faithful to the Tripods and displayed little emotion in general. He was clearly dedicated in his job as a Black Guard.
Daniel was only featured in the TV Series, never in the original books.
Appearances
Edit
TV Series
Edit
Community content is available under
CC-BY-SA
unless otherwise noted.