Graham Theakston

Born
20 September 1925 East Greenwich, London, England, UK
Died
7 February 2014 (aged 88) Horton Hospital, Banbury, Oxfordshire
Occupation
Director
Nationality
British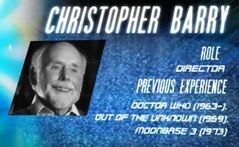 Christopher Barry was one of the directors of the The Tripods TV Series. He directed nine episodes in total. He is best known, however, for his work with Doctor Who.
Barry lived in Oxfordshire during his retirement years. He died in an escalator fall in a shopping centre in Banbury on 7 February 2014.
Episodes directed by Christopher Barry
Edit
External links
Edit
Community content is available under
CC-BY-SA
unless otherwise noted.